NEWSLETTER OPTIONS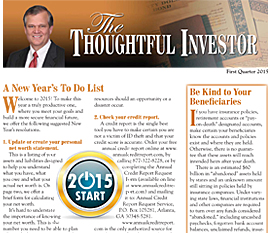 PRINTED
Print continues to be one of the most effective marketing tools, ranking higher for trustworthiness, retention, response rate, and readership. The Thoughtful Investor newsletter variations are digitally printed, allowing affordable, high-quality, four-color reproduction for small quantity orders. REQUEST PRINTED SAMPLES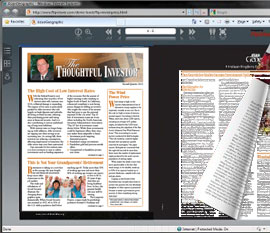 DIGITAL
PDF files of the newsletters are available in print or web resolution, or as a digital flipbook that can be uploaded to your website. Print resolution enables subscribers to print in-house or through local printers. Web resolution allows faster download times for emailing or posting to a website.
Flipbook Example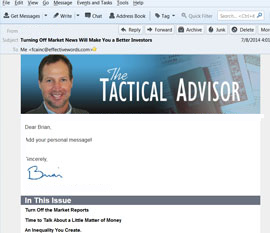 EMAILS
To fit the nature of emails, a single four-page newsletter is formatted as two to four individual emails, for a quicker online read using Constant Contact or other email systems.. Email advantages include links to specific pages on the advisor's web site as well as supporting information.
Request an EMAIL SAMPLE
HTML WEB PAGE
Html formatted web pages can be added to the advisor's web site, providing fresh content and a link for LinkedIn, Facebook, Twitter and other social media postings. Formatting depends on the advisor's site and can be set up as a responsive page that adapts to the viewer screen.
HTML PAGE
SOCIAL MEDIA CONTENT
Individual articles can be adapted to social formats, such as blog articles, Facebook, Twitter and LinkedIn teasers with links to the full article on your web site. Format as a magazine article, email or web site page. The enables advisors to highlight specific articles applicable to their investment approach.
CUSTOM ARTICLE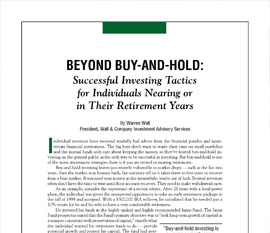 REPRINT RIGHTS
Often advisors will already have an inhouse newsletter, but can use additional content that promotes active investment management or adds value to their newsletters. Individual articles from The Thoughtful Investor can be purchased from current and past issues for this use.
Archive Articles
---
GET STARTED
Contact Linda Ferentchak at Financial Communications Associates Inc. to discuss the option you prefer and customization required. Your exact costs will be outlined in the follow-up proposal. Depending on the format you prefer, you will need to provide the following:
Print quality head and shoulders digital image
Custom masthead changes including artwork
Disclosures required by your firm
Contact information to appear on the back panel
Prior to the publication of each issue clients receive a proof pdf of the newsletter/communication for compliance approval along with FINRA review information. We will also seek confirmation of:
Format and publication date
Special requests
Number of copies and folding instructions if printed
Delivery requirements including "must have by ___" and destination
---
No long-term commitment required
The most important marketing tool you have is keeping in frequent contact with clients and prospects
through worthwhile information that helps them make money, save money, invest better and find financial security.
A high caliber, thoughtful newsletter does that and more. Give the Thoughtful Investor a try today.